How often do you think about your front door? Probably not too often, but it's worth looking at from an aesthetic standpoint. It's a great way to add visual appeal to your home and make it stand out from the rest.
We're here to let you know that your front door can be something beautiful too. Here's why.
1. Your entrance is an important first impression of your home.
When guests enter your house for the first time, they are immediately given an impression of you and your lifestyle. The look of your front door can tell a lot about you. A well-designed front door sets the expectation for your home. If you put in enough details & care into your front entrance, people will feel excited about what awaits them inside the house.
2. Improves the curb appeal of your home and increases your chances of being selected for a property listing.
A front door that is well designed and matches the exterior of your home will improve the amenity of your property. There are a number of things you can do to make your property more desirable or sellable, but upgrading this aspect should always be a priority. Smart buyers look for a beautiful front door and a well-maintained one for their home – which means yours will be attractive to more of them .
3. Says everything about your effort in maintaining your home
It's important to think about your front door. It's one of the first things people see before they enter your home, so if it looks old and worn down, it'll give the impression that you can't take care of other aspects of your place either. Make sure to fix scratches and loose hinges as soon as they happen, and clean tarnished areas. If the damage is too bad for you to handle, get help from a professional.
4. Should also meet your needs
Before choosing a front door, think about whether you enjoy looking out of the front door. If you don't want any windows, it's better to have better safety and privacy. If this isn't a major concern for you, adding windows could improve the look of your home – just choose one that works well with the style!
But, how to choose the right front entry door?
With all the choices out there, how to choose the right front entry door?
Bear in mind that the front door must be able to withstand a number of weather conditions, such as high winds, intense sun rays, rain and so on. With so many considerations to take into account before making your decision, here's a guide that can help you choose the right front entry door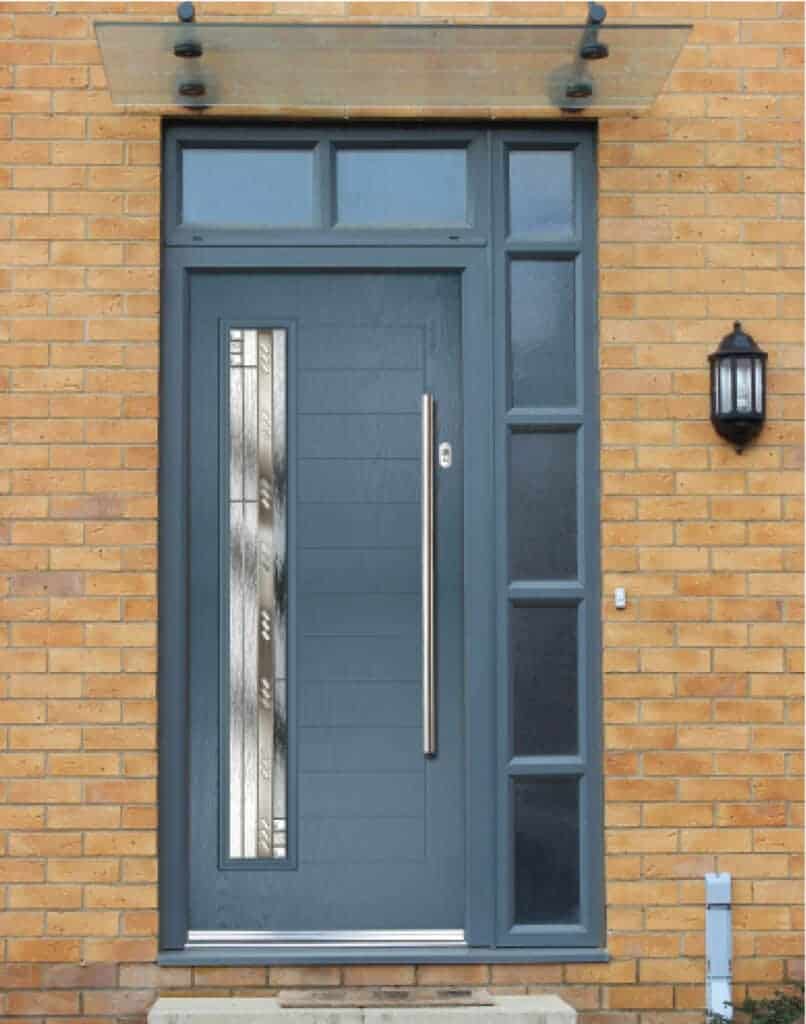 What's the best design for your front door?
It's important to note that your front door should match the overall design of your home. If you make the wrong choice, you'll end up with a front door that doesn't quite fit in with the style and will be an eyesore. There are many different types of front doors that you can install on your home, including panelled and glass doors alike. You could also choose to customise it and make it unique.
A door such as this is a big purchase that you spend a lot of time and effort on. However, this customisation means you get to choose the shape of the frame, the size of the door and which type of material is used for things like panels and handles. The end result is something that makes you feel more satisfied with your home.
What are the right materials to use?
The most important decision you need to make is choosing which material you want your front door to be made of. You can pick one material or combine different materials, like opting for a steel door with a wooden frame. Having the right material for your front door is vital, as it enables you to safeguard your property with a secure door that will last many years – all while giving your house an attractive look.
Wood doors
Wood is the most popular choice among homeowners as it can come in many forms such as oak, walnut, cherry, maple, pine and mahogany. It's versatile and the quality of wood available on the market today means you can find a perfect material for your needs.
Steel doors
Another option is a steel front door, which offers better security and displays none of the issues that are common with a wood door. There are various types to choose from: you can choose whether you want the frame to be made from steel or wood and whether there will be polyester finishing on top.
Fiberglass doors
You might also want to consider a fibreglass/composite door, which offers very low maintenance. Fibreglass is a good choice if your area frequently experiences humid weather. It's important to mention that the look of these doors is similar to those made from wood and the prices are relatively comparable.